Description
In Padaone Games we have an extensive expertise on game development with Unity 3D for mobile and desktop platforms. We are pioneers in Spain on the use of Unity 3D for AAA-looking games in consoles, and we have developed our own technology on top of Unity 3D to support console development
History
Our history
Padaone Games is a spin-off from Complutense University of Madrid Master Program on Game Development, with the goals of, first, serve as publishers for games developed by graduates from the master, and, second, produce our own games and technology. PadaOne Games stems from the force of Pedro Antonio González Calero, Marco Antonio Gómez Martín and Pedro Pablo Gómez Martín and their passion for putting game technology into use. We begun activities in 2011, and have been quite busy since then.
90Blox
On June 2013 we released our first commercial game 90Blox for iPhone/iPad (http://www.padaonegames.com/90blox/); in February 2014 Zombeer for PlayStation 3, a co-production between PadaOne Games and Moonbite Games, was published through PlayStation Network (http://zombeerthegame.com/) in Europe and America, and in August a PC version was published in Japan. The PC version was released worldwide through Steam in February 2015, published by U&I Entertainment.
Shiny the Firefly
In November 2014 we published our first WiiU title "Shiny the Firefly" for Europe and America through the Nintendo eShop, in co-production with the Spanish studio Stage Clear.
Germbusters
In March 2015 our last title for mobile phones was released: "Germbusters".
Behavior Bricks
Finally, in April 2015 we released, through the Unity Asset Store, "Behavior Bricks", a plug-in for Unity to design artificial intelligence for non-player characters that facilitates the collaboration between programmers and designers.
Roving Rogue
In Jun 2015 we will publish our second WiiU title "Roving Rogue" for Europe and America through the Nintendo eShop.
Projects
---
Videos
Trailer Roving Rogue YouTube
Gameplay Trailer Germbusters YouTube
Trailer Shiny the firefly YouTube
Trailer 90Blox YouTube
BehaviorBricks demo YouTube
Launch Trailer Zombeer YouTube
---
Images
There are far more images available for PadaOne Games, but these are the ones we felt would be most useful to you. If you have specific requests, please do contact us!
---
Logo & Icon
download logo files as .zip (76KB)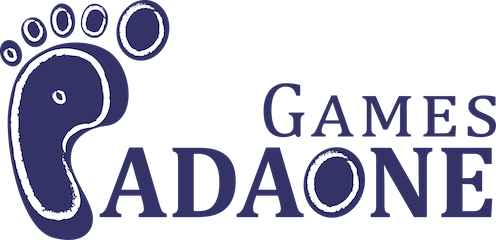 ---
Awards & Recognition
"iDÉAME U" - Madrid, 2013
---
Team & Repeating Collaborator
Pedro Gonzalez
CEO
Marco Gomez
CTO
Pedro Gomez
COO
Gonzalo Florez
Engineer
David Llanso
Engineer
David Rodriguez
Engineer
Contact
---
presskit() by Rami Ismail (Vlambeer) - also thanks to these fine folks